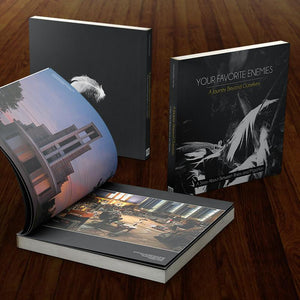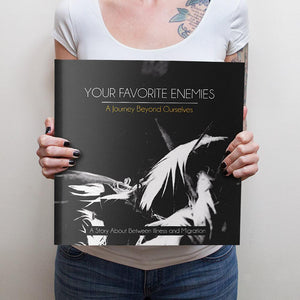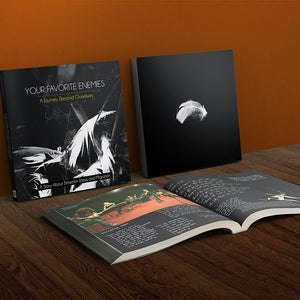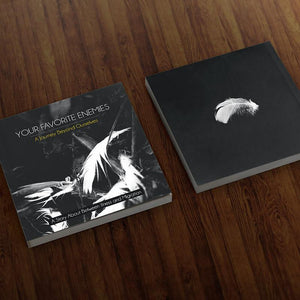 Voir plus bas pour la description en français
Full download of the book available upon payment confirmation. An email will be sent to you. Email us if you cannot find it.
Features:
– Limited edition
– Signed & numbered
- First book ever by Your Favorite Enemies
- The storybook has been assembled from Alex H Foster's personal notes
- Softcover
- 200+ full color pages
- Dimensions: 12" x 12" (L x W)
- Personal essays and notes from Alex
- Lyrics ideas and evolution throughout the journey
- Never seen before notes from studio sessions
- A song by song interview with Alex, Ben & Sef
- Excerpts of Alex's personal tour journals
- Alex's personal perspectives on cities and countries that have been influential on him
- Original texts about the journey by the 6 band members
- Rare pictures from the band's personal archives
- Never released photos from the recording of the album
- Never seen band pictures
- Unreleased footage from the official videoclip productions
- Liner notes and ephemerids on every album & EP
- Personal insights on the journey from the band's official photographer
Includes:
- The book "A Journey Beyond Ourselves" (dimensions: 12" x 12" (L x W))
- 1 digital download

*Please note that the digital version only contains a PDF version of the book. No other items are included.
About The Book "A Story About Between Illness and Migration":
A Story About Between Illness and Migration" is a 200+ pages assembled from Alex H. Fosters' personal notes, poetry, journal entries, recording notes and other annotations. It features an exclusive song-by-song interview with Alex, Ben and Sef and includes new and never released before pictures from the studios, behind the scenes from the videoclip productions, it also includes the perspective on the journey of every band member, as well as a short essay by Jeff Beaulieu.
Through images and texts, the book will bring deep down the intimacy of the album in its most glorious moments and its most challenging hardships. The book invites you to take part in all the different moments that the album is made of, from the HQ, all the way to Australia, going all over Europe, Asia and North America.
A bittersweet, sometimes gut-wrenching, sometimes peaceful life voyage filled with passion and let go, "A Journey Beyond Ourselves" is a look back at these past 5 years that have shaped Your Favorite Enemies as individuals and as a band.
-------
Téléchargement du livre disponible lors de la confirmation du paiement. Un message vous sera envoyé par courriel. Contactez-nous si vous ne le trouvez pas.
Description :
– Édition en tirage limité
– Signé et numéroté
- Premier livre de Your Favorite Enemies
- Le livre a été assemblé à partir des notes personnelles de Alex Henry Foster
- Couverture souple
- Plus de 200 pages couleur
- Dimensions : 30cm x 30cm (L x l)
- Notes et autres écrits personnels d'Alex
- Paroles inédites jamais utilisées en chansons
- Notes provenant des sessions d'enregistrement
- Entrevues "Chanson par chanson" avec Alex, Ben et Sef
- Extraits de journaux de voyage d'Alex
- Perspectives d'Alex sur des villes et pays visités avec le groupe
- Textes originaux de la part des 6 membres du groupe
- Photos provenant des archives personnelles du groupe
- Photos inédites de l'enregistrement de l'album
- Photos de groupe jamais vues auparavant
- Matériel inédit du tournage provenant de la production des vidéoclips
- Faits et caractéristiques de chaque album et EP parus
- Perspective de la photographe officielle du groupe
Inclut :
- Le livre a été assemblé à partir des notes personnelles de Alex H Foster
- Une version numérique du livre traduit en français
*Veuillez noter que la version numérique ne contient qu'une version PDF du livre. Aucun autre item n'est inclus.
À propos du livre "A Story About Between Illness and Migration" :
"A Story About Between Illness and Migration" est un livre de plus de 200 pages fait à partir de notes personnelles d'Alex H Foster, qui inclut de la poésie, des extraits de ses carnets de voyages, des notes prises lors des sessions d'enregistrement de l'album et divers autres écrits de sa plume. Le livre comporte aussi une entrevue chanson par chanson avec Alex, Ben et Sef, et dévoile plusieurs inédits; photos prises en studio, matériel exclusif lors de la production des vidéoclips du groupe, entre autres choses. S'y trouvent aussi des textes originaux de chacun des membres du groupe, qui partagent leur perspective sur le voyage qu'a été "Between Illness and Migration", ainsi qu'un texte inédit de Jeff Beaulieu.
À travers ses images et ses écrits, le livre vous transportera dans l'intimité de l'album, de ses moments les plus glorieux à ses défis les plus ardus. Il vous invite à prendre part à chacun des moments dont est fait l'album, que ce soit au QG du groupe ou en Australie, en Europe, en Asie, ou ailleurs dans le monde.
La douce-amère aventure d'une vie, parfois déchirante, parfois paisible, mais toujours passionnée et empreinte de lâcher prise, "A Journey Beyond Ourselves" est un regard sur les 5 dernières années de Your Favorite Enemies, qui les ont formés tels qu'ils sont aujourd'hui, tant au niveau personnel que collectif.