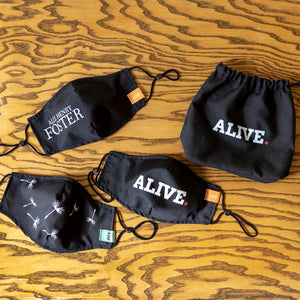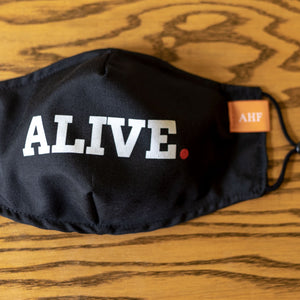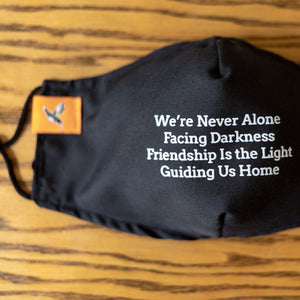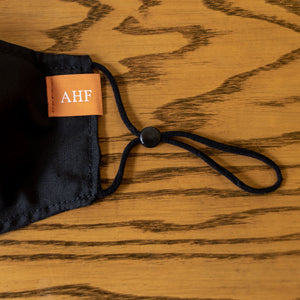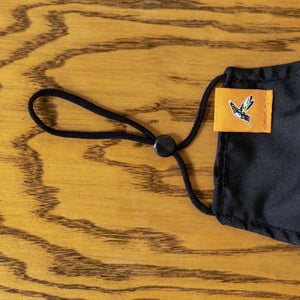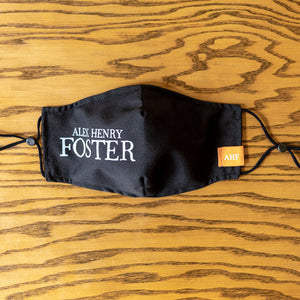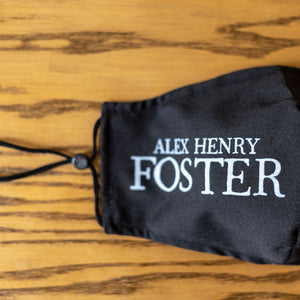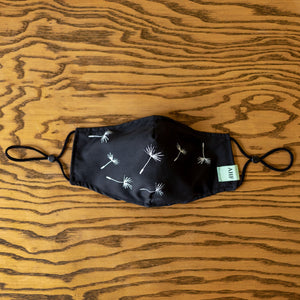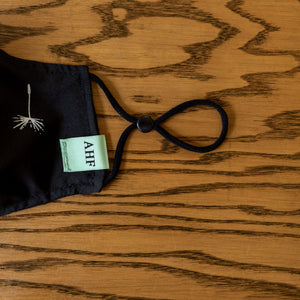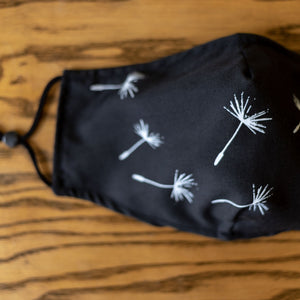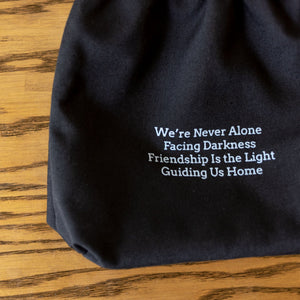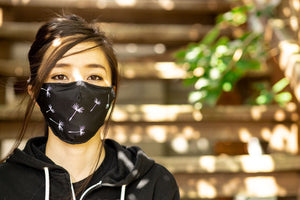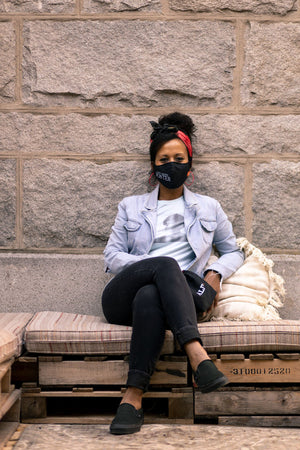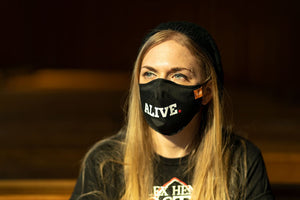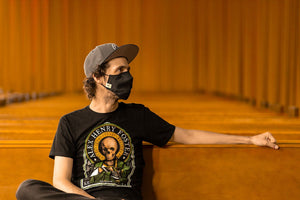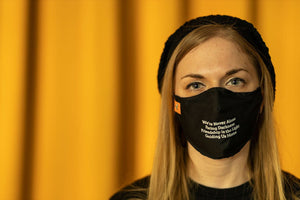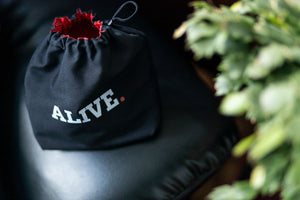 Voir plus bas pour la description en français 
All profits go to Suicide Action Montréal. To know more about the organism, click here.
Printed and crafted at The Fabrik, Alex Henry Foster's own creative atelier.
Entirely made in The Fabrik, Alex's creative atelier, all the masks are made using recycled materials. Those face masks are intended for repeated use and can be washed.
Masks are not medical grade and are not intended to prevent COVID-19 or any other disease. Please follow CDC guidelines to help protect yourself and others from contracting and spreading COVID-19. For more information click this link.
Features:
- Adjustable ear straps for a tight fit
- Soft wire inside mask at nose level
- Reversible
- Washable
- Made with recycled fabric
Includes:
- (1) Alive. Mask
- (1) Alex Henry Foster Mask
- (1) Dandelions Mask
- (1) Travel pouch
About the masks:
"Following the passing of a friend who recently lost a long battle against sorrows, along with your overwhelming demand for me to offer hand-crafted masks (which I wasn't comfortable doing at first as I didn't want to brand this terrible crisis nor did I want to make it a fashion statement), I decided to create the "ALIVE." collection. All the profits will go to "Suicide Action", a Montreal organism, in order not only to honor my friend's memory, but also to remind us all of the high importance to keep on believing in the ability for love and compassion to make a tremendous difference in our lives and that of others. It doesn't take much light to conquer darkness…If you need to talk, if you feel depressed, lost, or if you are fighting with desperation and hopelessness, please don't hesitate to reach out, may it be to a friend or a stranger. There's no need to walk alone in the darkness, whatever the reasons we may have to do so… Trust me… I know!
Wearing a mask saves lives, but love and compassion save us all.
Much love,
Alex"
-------
Tous les profits vont à Suicide Action Montréal. Pour en savoir plus sur l'organisme, cliquez ici.
Entièrement conçus à La Fabrik, l'atelier de création d'Alex, tous les masques sont faits avec des matériaux recyclés. Ces masques pour le visage sont destinés à un usage répété et peuvent être lavés.
Les masques ne sont pas de qualité médicale et ne sont pas destinés à prévenir la COVID-19 ou toute autre maladie. Veuillez suivre les directives de l'OMS pour vous aider à vous protéger ainsi que les autres afin de ne pas contracter ou propager la COVID-19. Pour plus d'informations, cliquez sur ce lien.
Description :
- Élastiques des oreilles ajustables pour un maintien parfait
- Fil souple à l'intérieur du masque au niveau du nez
- Réversible
- Lavable
- Fabriqué avec du tissu recyclé
Inclut :
- (1) Masque Alive.
- (1) Masque Alex Henry Foster
- (1) Masque Pissenlit
- (1) Pochette de voyage
À propos des masques :
"Suite au décès d'un ami qui a récemment perdu une longue bataille contre le désespoir, ainsi que vos demandes nombreuses afin que j'offre des masques fabriqués à la main (ce que je n'étais pas à l'aise de faire au début car je ne voulais pas commercialiser cette terrible crise, pas plus que d'en faire un article de mode), j'ai décidé de créer la collection « ALIVE. ». Tous les profits iront à "Suicide Action", un organisme montréalais, afin non seulement d'honorer la mémoire de mon ami, mais aussi de nous rappeler à tous la grande importance de continuer à croire en la capacité de l'amour et de la compassion à faire une différence dans nos vies et celles des autres. Il suffit d'un peu de lumière pour vaincre les ténèbres… Si vous avez besoin de parler, si vous vous sentez déprimé, perdu ou si vous combattez l'affliction et le désespoir, n'hésitez pas à vous tourner vers quelqu'un, que ce soit un ami ou un étranger. Il n'est pas nécessaire de marcher seul dans l'obscurité, quelles que soient les raisons pour lesquelles nous pouvons le faire… Faites-moi confiance… Je le sais !
Le port d'un masque sauve la vie, mais l'amour et la compassion nous sauvent tous.
Avec tout mon amour,
Alex"