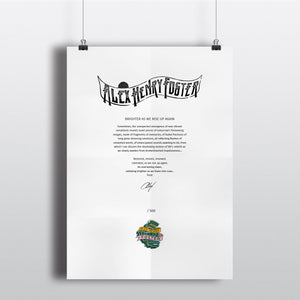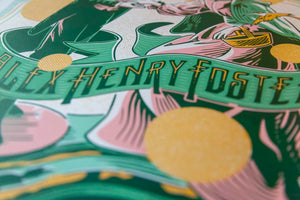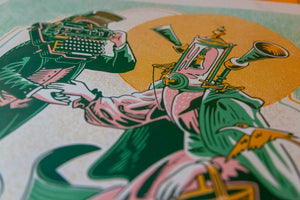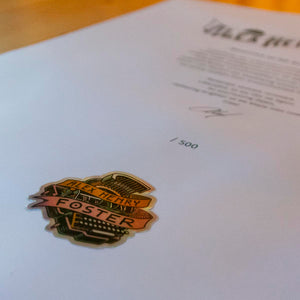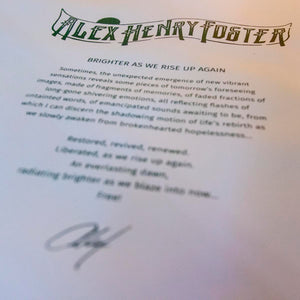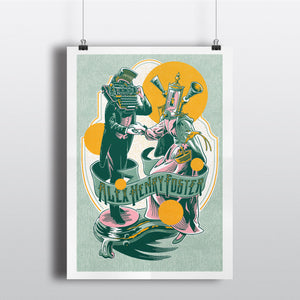 This item is exclusively available to SFCC members. If you're not currently a member, click here to subscribe for a membership to gain access.
Cet article est exclusivement disponible pour les membres SFCC. Si vous n'êtes pas actuellement membre, cliquez ici pour vous abonner et obtenir un accès.
Voir plus bas pour la description en français 
Printed and crafted at The Fabrik, Alex Henry Foster's own creative atelier.

Features:
– Limited collector edition of 500 copies
– Hand-numbered
– Hand-printed silkscreen poster
– Prints on both sides
– Dimensions: 24" (width) x 36" (height)

Includes:
– "Brighter As We Rise Up Again" Silkscreen Poster

Designed by Joe Mruk (Red Buffalo Illustration) for the collection "Brighter As We Rise Up Again" by Alex Henry Foster.

About the collection:
Sometimes, the unexpected emergence of new vibrant sensations reveals some pieces of tomorrow's foreseeing images, made of fragments of memories, of faded fractions of long-gone shivering emotions, all reflecting flashes of untainted words, of emancipated sounds awaiting to be, from which I can discern the shadowing motion of life's rebirth as we slowly awaken from brokenhearted hopelessness…

Restored, revived, renewed.
Liberated, as we rise up again.
An everlasting dawn, radiating brighter as we blaze into now…
Free!

- Alex

------
Imprimé et conçu à La Fabrik, l'atelier de création d'Alex Henry Foster.


Description :
– Édition collector limitée à 500 exemplaires
– Numéroté à la main
– Poster imprimé en sérigraphie
– Imprimé des deux côtés
– Dimensions : 60cm (largeur) x 90cm (hauteur)

Inclut :
- Affiche sérigraphiée "Brighter As We Rise Up Again"

Conçue par Joe Mruk (Red Buffalo Illustration) pour la collection "Brighter As We Rise Up Again" d'Alex Henry Foster.

À propos de la collection:
Parfois, l'émergence inattendue de nouvelles sensations vibrantes révèle quelques fragments des images de demain, faites de bribes de souvenirs, de fractions fanées d'émotions transies disparues depuis longtemps, toutes reflétant des éclats de paroles insondées, de sons émancipés en attente d'exister, dont je peux discerner le mouvement sous-jacent de la renaissance de la vie alors que nous nous réveillons lentement du désespoir d'un cœur brisé...

Restauré, ravivé, renouvelé.

Libéré, alors que nous nous relevons.

Une aube éternelle, rayonnant de plus en plus alors que nous flambons maintenant en elle...

Libre !

- Alex