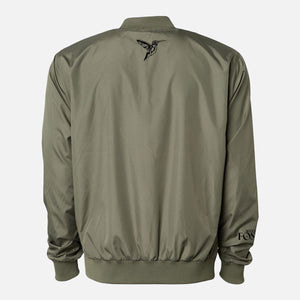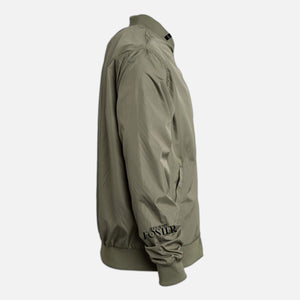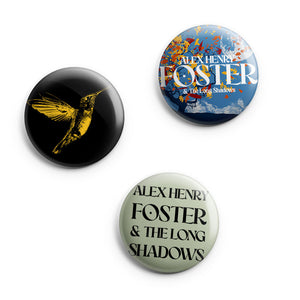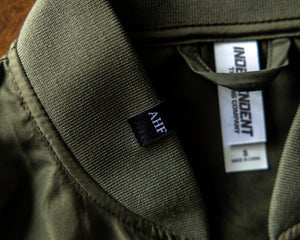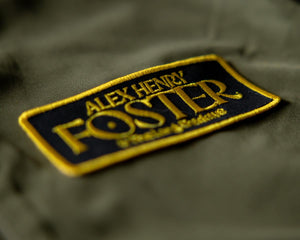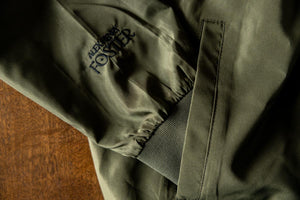 Voir plus bas pour la description en français
Printed and crafted at The Fabrik, Alex Henry Foster's own creative atelier.

Features:
- Embroidered patch sewn on front
- Embroidery on sleeve
- Print on back
- 100% polyester
- Single layer, no lining
- Matte plastic zipper
- Self neck tape
- Welt pockets
- Locker loop in center back


Includes:

- Lightweight bomber jacket
- Set of 3 pins


Created for the collection "Winter Is Coming In".

"Winter Is Coming In" is the second track on Alex Henry Foster's first solo album, "Windows in the Sky". Written in Tangier, Morocco, Alex spent an enormous amount of time writing and re-writing it, attempting to find what he called "the source", until he finally just stopped and started to observe and listen. A song about honesty, redemption, freedom, contrition, confession, and the difference between truth and hope, this song truly took its full meaning when Alex acknowledged that the storm that was raging inside of him was one he himself had kept alive, so that he could realize not only that winter had never come, but that this was also a rare opportunity to keep on witnessing the spring lights.

-------
Imprimé et conçu à La Fabrik, l'atelier de création d'Alex Henry Foster.

Description :
- Patch brodé cousu sur le devant
- Broderie sur la manche
- Imprimé au dos
- 100% polyester
- Une seule couche, pas de doublure
- Fermeture éclair en plastique mat
- Bande souple autour du cou
- Poches raglan


Inclut :
- Bomber
- Ensemble de 3 badges


Créé pour la collection "Winter Is Coming In"

"Winter Is Coming In" est la deuxième chanson sur le premier album solo d'Alex Henry Foster, "Windows in the Sky". Écrit à Tanger, au Maroc, Alex a passé énormément de temps à l'écrire et à la réécrire, essayant de trouver ce qu'il appelait "la source", jusqu'à ce qu'il s'arrête et commence à observer et écouter. Une chanson sur l'honnêteté, la rédemption, la liberté, la contrition, la confession et la différence entre la vérité et l'espoir, cette chanson a vraiment pris tout son sens quand Alex a reconnu que la tempête qui faisait rage en lui était celle qu'il avait lui-même entretenue, afin qu'il puisse réaliser non seulement que l'hiver n'était jamais venu, mais que c'était aussi une occasion rare de continuer de voir les lumières du printemps.