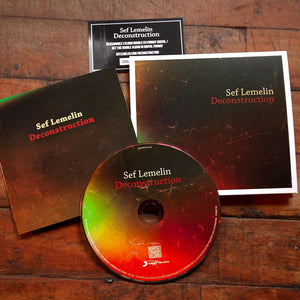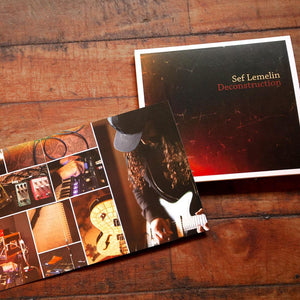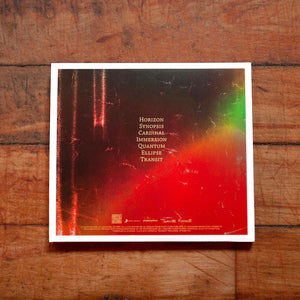 Voir plus bas pour la description en français
Released in March 2019
Full download of the album available upon payment confirmation. An email will be sent to you. Email us if you cannot find it.
Includes:
- The CD "Deconstruction"
- An 8-page booklet

Track Listing:
1. Horizon (2:14)
2. Synopsis (5:35)
3. Cardinal (5:14)
4. Immersion (5:54)
5. Quantum (4:59)
6. Ellipse (7:24)
7. Transit (2:15)
About The Album "Deconstruction":
"Deconstruction is welcoming lights in the obscurity I've learned to compose with all my life. Some people scream to be heard, others become the silence they longed. For me, this album represents the moment I decided to go over the walls I had built around myself and face what always scared me the most; the emotions I felt I needed to protect myself from in order to survive outside a universe I had created, trying to convince myself there was more to life than the sorrows I kept feeding myself with. I was looking for words to express myself, but it's through sounds and noises that I found the courage to speak out."
-------
Paru en mars 2019
Téléchargement de l'album disponible lors de la confirmation du paiement. Un message vous sera envoyé par courriel. Contactez-nous si vous ne le trouvez pas.
Inclut :
- Le CD "Deconstruction"
- Un livret de 8 pages

Liste des chansons :
1. Horizon (2:14)
2. Synopsis (5:35)
3. Cardinal (5:14)
4. Immersion (5:54)
5. Quantum (4:59)
6. Ellipse (7:24)
7. Transit (2:15)
À propos de "Deconstruction" :
"Deconstruction accueille les lumières dans l'obscurité avec laquelle j'ai appris à composer toute ma vie. Certaines personnes crient pour se faire entendre, d'autres deviennent le silence qu'elles désiraient ardemment. Pour moi, cet album représente le moment où j'ai décidé de franchir les murs que j'avais construits autour de moi et de faire face à ce qui m'a toujours le plus effrayé; les émotions dont je ressentais le besoin de me protéger pour survivre en dehors d'un univers que j'avais créé, essayant de me convaincre qu'il n'y avait pas plus dans la vie que l'affliction avec laquelle je me nourrissais sans cesse. Je cherchais des mots pour m'exprimer, mais c'est par des sons et des bruits que j'ai eu le courage de parler."