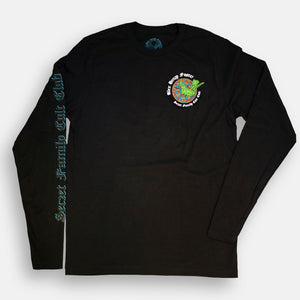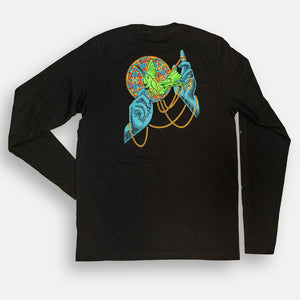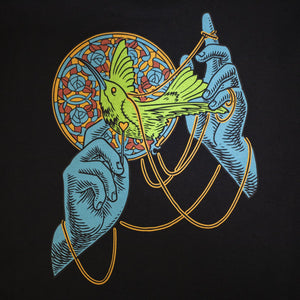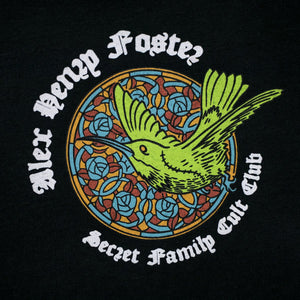 This item is exclusively available to SFCC members. If you're not currently a member, click here to subscribe for a membership to gain access.
Cet article est exclusivement disponible pour les membres SFCC. Si vous n'êtes pas actuellement membre, cliquez ici pour vous abonner et obtenir un accès.
Voir plus bas pour la description en français 
Released in October 2020

Printed and crafted at The Fabrik, Alex Henry Foster's own creative atelier.


100% Cotton

Includes:
– "Garden of Life" crewneck long sleeve t-shirt

Designed by Alex Henry Foster for the collection "As Long as the Heart".

About the collection "As Long as the Heart":
"As Long as the Heart" is an image of just how hopeful and rejuvenating love, compassion, forgiveness and redemption are within the course of everyone's unique life journey.

It's the resilience to embrace life, even when we feel too fragile to even believe in any better tomorrow. It's an invitation for pure welcoming kindness to heal a rejected broken heart. 

It's a reconciliation with the nature of what has felt like a long forgotten dream, a tribute to someone's faithfulness leading to our awaited renaissance. 

It's home. It's care-giving. It's alive and emancipative. It's a new morning joy solacing our grieving endless nights. It's you, it's me, it's whatever we want to make of it.

As long as the heart keeps on beating, for us all to foresee the empowering peace we all bear, that keeps on feeding the communal bright lights we are all invited to share, to let it shine out ablaze and free.

- Alex
------
Imprimé et conçu à La Fabrik, l'atelier de création d'Alex Henry Foster.
100% Coton
Inclut :
– T-shirt col rond à manches longues "Garden of Life"
Créé par Alex Henry Foster pour la collection "As Long as the Heart".

À propos de la collection "As Long as the Heart" :
"As Long as the Heart" (Tant que le coeur) est une image de combien l'amour, la compassion, le pardon et la rédemption sont pleins d'espoir et rafraîchissants au cours du cheminement de la vie de chacun.
C'est la résilience d'embrasser la vie, même lorsque nous nous sentons trop fragiles pour même croire en un avenir meilleur. C'est une invitation à la pure gentillesse prête à guérir un cœur brisé rejeté.
C'est une réconciliation avec la nature de ce qui a semblé être un rêve depuis longtemps oublié, un hommage à la fidélité de quelqu'un menant à notre renaissance attendue.
C'est la maison. C'est prévenant. C'est vivant et émancipateur. C'est une nouvelle joie matinale qui réconforte nos nuits interminables de deuil. C'est vous, c'est moi, c'est tout ce que nous voulons en faire.
Tant que le cœur continue de battre, pour que nous puissions tous envisager la paix puissante que nous portons tous en nous, qui continue de nourrir les lumières communes que nous sommes tous invités à partager, pour les laisser briller et libre.

- Alex