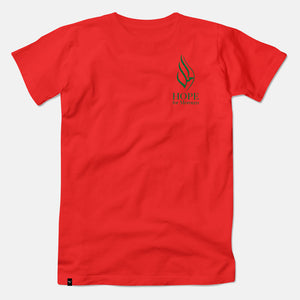 Voir plus bas pour la description en français
All the profits will go to the following organizations:
Moroccan Red Cross
High Atlas Foundation
Banque Alimentaire (Food Bank)
Want to also send a message of support to people in Morocco? Write it in the "Special instructions for seller" at checkout.
Printed and crafted at The Fabrik, Alex Henry Foster's own creative atelier.

Includes:
– 1 T-shirt "Hope for Morocco"

100% Cotton
Crewneck cut
Red


About the "Hope for Morocco" Campaign:
Standing With Our Moroccan Friends
Contributing To Humanitarian Basic Needs

As most of you already know, Morocco has been a highly significant place for me ever since I first set foot in Tangier back in the summer of 2016. It's a place where I found comfort for my grieving heart and healing for several of my emotional wounds through its people's benevolence and kindness. This human connection led me to establish myself in the community in 2019 and later acquire the boutique hotel La Maison de Tanger in 2021. In many ways, Morocco has been the birthplace of several of my recent creative projects, but more importantly, it is the inspiration that will forever stand as the living spark that ultimately revived a personal fire that had been extinguished for quite a long time before I saw its hopeful nature blaze again, giving life to a flame that eventually restored the blessing that it is for me to commune the vivid colors of art and soul with you all, my precious friends.

While Tangier had the utmost fortune to avoid the earthquake that recently took away the lives of 3,000 people and left over 5,500 others injured(1), most of them losing their homes, possessions, and livelihood in a few seconds on the night of September 8, 2023, I've been completely devastated by the news and determined to tangibly contribute to the relief efforts, even though my physical condition prevents me from going over there in person.

This is why I decided, along with the members of The Long Shadows and with the support of my label's team, to join the relief efforts by designing a t-shirt, the profits of which will be divided between the Moroccan Red Cross, the High Atlas Foundation and Banque Alimentaire (Food Bank). You can also donate money through our online store, which will be added in its entirety to the global amount the campaign raises.

Knowing that we are all living in a time of great need and that we may not be in a position to purchase a t-shirt or to give money, I also decided to include an option for you to offer "A Gift from the Heart", which is a way for anyone willing to offer a few written words of support to do so. Every message will be translated into French and Arabic before being distributed to the associations that will coordinate the rebuilding efforts, once the primary emergency actions are over.

Thank you for being the difference for someone in need.

With love, gratitude, and solidarity,
Alex


(1) Numbers provided by the Red Cross on September 14th, 2023.
-------
Tous les profits seront versés aux organisations suivantes :
Croix Rouge du Maroc
High Atlas Foundation
Banque Alimentaire

Vous souhaitez également envoyer un message de soutien aux Marocains ? Écrivez-le dans les « instructions spéciales pour le vendeur » lors du paiement de votre commande.

Imprimé et créé à La Fabrik, l'atelier de création d'Alex Henry Foster.

Inclut :
- 1 t-shirt "Hope for Morocco"

100% Coton
Cold rond
Rouge

À propos de la campagne "Hope for Morocco" :

Solidaires aux côtés de nos amis marocains
Contribuer aux besoins humanitaires fondamentaux

Comme la plupart d'entre vous le savez déjà, le Maroc a été un endroit des plus significatifs pour moi, depuis la toute première fois où j'ai mis les pieds à Tanger à l'été 2016. C'est un lieu où, à travers la bienveillance et la gentillesse du peuple, mon coeur endeuillé a su trouver réconfort et guérison de ses nombreuses meurtrissures émotionnelles. Cette connexion humaine m'a mené à m'établir dans la communauté en 2019, pour ensuite faire l'acquisition de l'hôtel-boutique La Maison de Tanger en 2021. De nombreuses manières, le Maroc fut le lieu de naissance de plusieurs de mes projets créatifs récents, mais plus important encore, c'est l'inspiration qui représentera à jamais l'étincelle vivante qui a finalement ravivé un feu personnel qui s'était éteint depuis assez longtemps, avant que je vois à nouveau sa nature pleine d'espoir s'embraser, donnant vie à une flamme qui restaura par la suite la bénédiction que représente pour moi le fait de communier des couleurs d'art et d'âme vives, avec vous tous mes précieux amis.

Alors que Tanger eut la plus grande des chances d'être épargnée du séisme qui a récemment enlevé la vie de 3000 personnes et laissé 5500 autres blessées (1), la plupart dépossédées de leurs demeures, leurs possessions, et leurs moyens de subsistance en quelques secondes, dans la nuit du 8 septembre 2023, j'ai été complètement dévasté par la nouvelle et déterminé à contribuer de manière tangible aux efforts déployés, bien que ma condition physique me prévienne d'y aller en personne.

C'est pourquoi j'ai décidé, aux côtés des membres de The Long Shadows et avec le soutien de l'équipe de mon label, de me joindre aux efforts de soutien déployés en créant un t-shirt, duquel les profits seront redistribués entre la Croix Rouge du Maroc, la High Atlas Foundation et la fondation Banque Alimentaire. Vous pouvez également faire un don monétaire via notre boutique en ligne, qui sera ajouté dans son intégralité à la globalité des fonds amassés par la campagne.

Sachant que nous vivons tous dans une période aux besoins criants et que nous ne sommes pas tous en position de pouvoir faire l'achat d'un t-shirt ou de donner de l'argent, j'ai également décidé de joindre une autre option afin que vous puissiez offrir "un cadeau du coeur", qui est une manière pour quiconque souhaitant offrir quelques mots de soutien de le faire. Tous les messages seront traduits en français ainsi qu'en arabe avant d'être distribués aux associations qui assureront la coordination des efforts de reconstruction, une fois que les actions prioritaires de secours seront terminées.

Merci d'être la différence pour quelqu'un en besoin.

Avec amour, gratitude et solidarité,
Alex


(1) Chiffres recensés par la Croix Rouge en date du 14 septembre 2023.