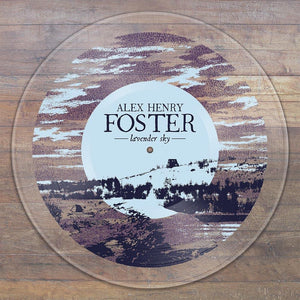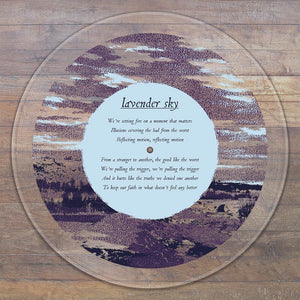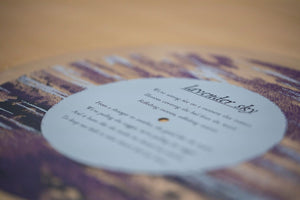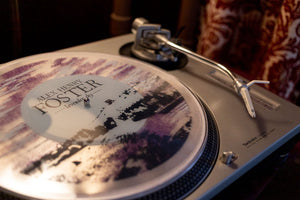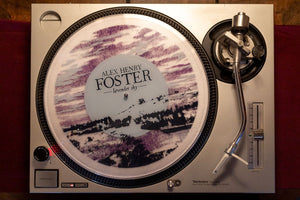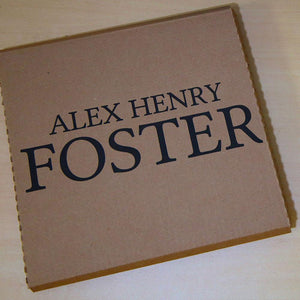 Voir plus bas pour la description en français 
Lavender Sky LP - LATHE CUT VINYLS

Originally released on June 14, 2020 
Limited and collector edition clear vinyl
17-minute version of "Lavender Sky" on side A, recorded live as a direct-to-vinyl in The Upper Room Studio.
Designed by Alex Henry Foster
Printed and crafted at The Fabrik, Alex Henry Foster's own creative atelier.
Includes:
– 1 clear heavyweight lathe cut 12" record
– Signed and numbered limited edition of 100 copies
– 1 hand-printed silkscreen jacket
– 1 digital download card
Designed by Alex Henry Foster.
Track Listing:
1. Lavender Sky (Live from the Upper Room Studio, June 14, 2020)
About "Lavender Sky":
"While honesty doesn't know cynicism and bitterness, I see "Lavender Sky" as the acceptance of things we don't know and can't control, as much as an admittance of our own fear in what makes us who we are and keeps us as human as the sky we long for… From a stranger to another… all looking for a safe place to fall on our knees without having to find the proper words to whisper for grace." – Alex
-------
VINYLES LATHE CUT - Lavender Sky LP 

Sortie le 14 juin 2020
Vinyle de collection transparent en édition limitée
Version de 17 minutes de "Lavender Sky" sur la face A, enregistrée en direct sur vinyle au Upper Room Studio.
Impression en sérigraphie sur la face B
Conçu par Alex Henry Foster
Imprimé et créé à La Fabrik, l'atelier de création d'Alex Henry Foster
Inclut :
- 1 vinyle transparent lathe cut 12"
- Édition limitée, signée et numérotée de 100 exemplaires
- 1 pochette imprimée en sérigraphie
- 1 carte de téléchargement
Conçu par Alex Henry Foster.
Liste des chansons :
1. Lavender Sky (Live from the Upper Room Studio, June 14, 2020)
À propos de "Lavender Sky" :
"Bien que l'honnêteté ne connaisse pas le cynisme et l'amertume, je vois "Lavender Sky" comme l'acceptation de choses que nous ne savons pas et ne pouvons pas contrôler, autant que l'admission de notre propre peur dans ce qui fait de nous qui nous sommes et nous garde aussi humains que le ciel dont nous rêvons... D'un étranger à un autre... tous à la recherche d'un endroit sûr pour se mettre à genoux sans avoir à trouver les mots appropriés pour demander grâce dans un murmure." - Alex