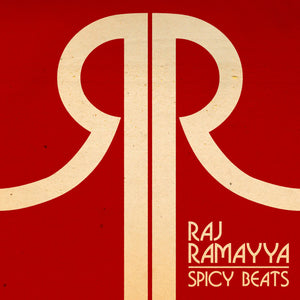 Voir plus bas pour la description en français
Official Release Date: December 4, 2020
Spicy Beats was recorded over the course of six months in various studios, bedrooms, living rooms, toilets, bars, and beaches in Chennai, India, and Tokyo, Japan.
It was a labor of love and reflects my interpretations of the teachings of traditional Indian mythology in a modern context. We all battle our innermost and darkest demons and desires interleaved with our need for social justice and the sanctitude of nature.
This album is dedicated to Gaia our mother earth and all the gods that have shown us that to err is human and to forgive is divine. May we find the path forward in harmony and love.
"Om Shri Gaia Ma, Purnatva Gaia Ma"
Peace and Blessings
-Raj
------
Raj Ramayya est un chanteur / auteur / compositeur et producteur primé surtout connu pour son travail d'anime classique tel que Cowboy Bebop, Ghost in The Shell, Wolfs Rain, Made in Abyss, Tower of God et des jeux tels que Resident Evil, Tekken et Shenmue.
Son nouvel album "Spicy Beats" fut enregistré en six mois dans différents studios, des chambres, des salons, des salles de bains, des bars et des plages à Chennai en Inde, à Tokyo, au Japon.
"Ce fut un travail d'amour et cela reflète mes interprétations des enseignements de la mythologie indienne traditionnelle dans un contexte moderne. Nous combattons tous nos démons les plus profonds et les plus sombres et nos désirs entrelacés avec notre besoin de justice sociale et le caractère sacré de la nature. Cet album est dédié à Gaia notre terre-mère et à tous les dieux qui nous ont montré que l'erreur est humaine et que pardonner est divin. Puissions-nous trouver la voie à suivre dans l'harmonie et l'amour. "Om Shri Gaia Ma, Purnatva Gaia Ma" Paix et Bénédictions."
- Raj