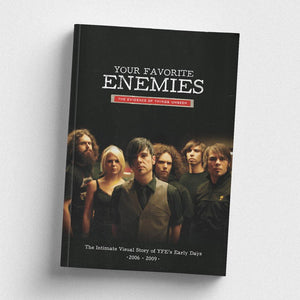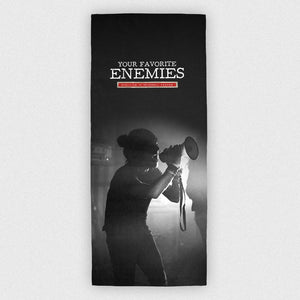 Voir plus bas pour la description en français
Full download of the book available upon payment confirmation. An email will be sent to you. Email us if you cannot find it.
Book
Features:
- Limited edition
- Signed & numbered
- Softcover
- 200+ full color pages
- Dimensions: 11" x 8.5" (L x W)
- Personal essays and notes from Alex
- Never seen before notes from studio sessions
- Excerpts of Alex's blogs
- Original texts about the journey by the 6 band members
- Rare pictures from the band's personal archives
- Never released photos from the recording of the band's first albums
 Includes:
- The book "The Evidence of Things Unseen"
- 1 exclusive silkscreen hand-printed canvas (Dimensions: 28" x 12" (L x W))
- 1 digital download card
*Please note that the digital version only contains a PDF version of the book. No other items are included.
About The Book "The Evidence of Things Unseen":
To mark the 15th anniversary of their very first rehearsal as what would become the original - and still unchanged - lineup of Your Favorite Enemies in the fall of 2005, the band decided to look back at what eventually brought them all over the world by remixing and remastering their first 2 EPs and adding newly discovered demos, writing sessions, and alternative versions of what has become YFE-fan-favorites.
Part commentary, part reminiscence, flashbacks, personal musings, collective recollections and new re-appropriations, this unique project has nothing to do with the usual anthologies, as the band members revisit the genesis of their singular journey, from their improbable beginning to their first encounter with the entertainment world they call the "beautiful monster of all broken dreams", up to their own understanding and admittance of just how impacted and defined they have been by such an incredible voyage, offering in the meantime a very unique view on what the YFE world was about as seen from the eye of the storm, unveiling with good humor, irony, and humble honesty the light, the shadow and the darkness of a noisy adventure based on faith, family, friendship and their passion for words and sounds that is now representing almost 15 years of their lives…
-------
Téléchargement du livre disponible lors de la confirmation du paiement. Un message vous sera envoyé par courriel. Contactez-nous si vous ne le trouvez pas.
Description:
– Édition en tirage limité
– Signé et numéroté
- Couverture souple
- Plus de 200 pages couleur
- Dimensions : 20cm x 28cm (Largeur x Longueur)
- Essais personnels et notes d'Alex
- Notes inédites des sessions en studio
- Extraits des blogs d'Alex
- Textes originaux à propos du voyage des 6 membres du groupe
- Photos rares issues des archives personnelles du groupe
- Photos inédites des séances d'enregistrement des premiers albums du groupe
Inclut:
- Le livre "The Evidence of Things Unseen"
- 1 toile exclusive imprimée en sérigraphie (dimensions : 30cm x 71cm (Largeur x Longueur))
- 1 carte de téléchargement numérique
*Veuillez noter que la version numérique ne contient qu'une version PDF du livre. Aucun autre item n'est inclus.
À propos du livre "The Evidence of Things Unseen" :
Pour marquer le 15ème anniversaire de la toute première répétition de ce qui allait devenir la composition originale - inchangée depuis - de Your Favorite Enemies à l'automne 2005, le groupe a décidé de revisiter ce qui les a amenés partout dans le monde et a remixé et remasterisé leurs 2 premiers EPs, en y ajoutant aussi des démos inédites, des sessions d'écriture et des versions alternatives des chansons qui sont devenues les coups de coeur des fans.
Composé de commentaires, réminiscence, flashbacks, réflexions personnelles, souvenirs collectifs et nouvelles ré-appropriations, ce projet unique n'a rien à voir avec les anthologies habituelles, puisque les membres du groupe parcourent la genèse de leur singulier voyage, de leur début improbable à leur première rencontre avec le monde du divertissement qu'ils appellent "le beau monstre de tous les rêves brisés", jusqu'à leur propre compréhension de comment cet incroyable voyage les a définis, offrant dans le même temps une perspective très unique sur ce que le monde YFE était vu du coeur de la tempête, dévoilant avec beaucoup d'humour, d'ironie et avec une humble honnêteté la lumière, l'ombre et la noirceur d'une aventure noisy basée sur la foi, la famille, l'amitié et leur passion pour les mots et les sons représentant maintenant presque 15 ans de leur vie…