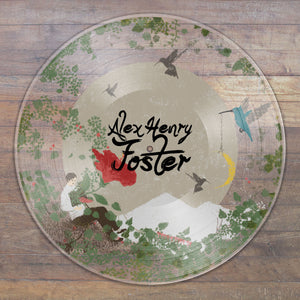 This item is exclusively available to SFCC members. If you're not currently a member, click here to subscribe for a membership to gain access.
Cet article est exclusivement disponible pour les membres SFCC. Si vous n'êtes pas actuellement membre, cliquez ici pour vous abonner et obtenir un accès.
Voir plus bas pour la description en français

Printed and crafted at The Fabrik, Alex Henry Foster's own creative atelier.

The song featured on this vinyl is part of a new project by Alex Henry Foster, the details of which will be announced shortly. A digital version of the track will be sent to you in the beginning of October.


*This vinyl is included in the Old School membership package of The Club. Currently New School, but want to switch? Write to us.

Features:
- clear heavy-weight vinyl
- silkscreen printed
- made with the lathe-cut technique
- signed


Includes:
- 1 vinyl
- 1 hand-printed jacket
- 1 digital download card

Designed by Alex Henry Foster for the membership package of The Club's 12th year, under the theme "The Exhilarating Joy of a Life Made Anew".

-------
Imprimé et conçu à La Fabrik, l'atelier de création d'Alex Henry Foster.
La chanson présentée sur ce vinyle fait partie d'un nouveau projet d'Alex Henry Foster, dont les détails seront annoncés prochainement. Une version numérique du morceau vous sera envoyée début octobre.

*Ce vinyle est inclus dans le package Old School d'abonnement au Club. Vous êtes membre New School à ce jour et souhaiteriez modifier votre abonnement ? Écrivez-nous.

Caractéristiques :
- Vinyle transparent heavy-weight
- Imprimé en sérigraphie
- Conçu avec la technique lathe cut
- Signé


Inclut :
- 1 vinyle
- 1 pochette imprimée en sérigraphie
- 1 carte de téléchargement numérique


Créé par Alex Henry Foster pour le package d'abonnement de la 12ème année du Club, sous le thème "The Exhilarating Joy of a Life Made Anew" (L'exaltante joie d'une vie renouvelée).